Blog Ghostwriting Services
For individuals, businesses and organizations
Use a blog to stay in touch with your audience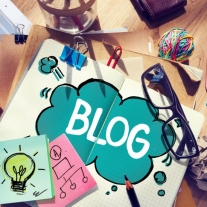 "Content is where I expect much of the real money will be made on the Internet, just as it was in broadcasting."
~ From January 1996 essay titled "Content is King," by Bill Gates, published on the Microsoft website.
Blogs are becoming essential for professionals
At its core, a blog is the online version of one-to-one communication. The heart and soul of a company can be revealed in the blog on its website. Blogs contain personal thoughts, advice and web links, presented in a consistent, chronological format. They can be maintained by individuals, groups, or organizations. The term "blog" is short for "web log." Individuals who blog under their own names can build a reputation by sharing their opinions and knowledge. Blogging is their business. Bloggers are often valuable sources of information in their fields.
For businesses, blogs serve the purpose of connecting with customers and other stakeholders on a regular basis. When the CEO authors the blog, it makes the company seem more human and approachable. There's a real person behind that fancy logo! For CEOs who are too busy to blog on a consistent basis a common practice is to hire a professional blog ghostwriter to write under the CEOs name.
A blog post contains certain basic elements
The most important ingredient of any blog is quality content. Considering modern attention spans, a blog has to grab readers' attention from the very first paragraph to keep them on the page. It follows that content must be creative, well-written, and in alignment with the company's brand. Hiring a blog writer often saves a lot of time and yields professional results.
A new post goes to the top of the blog's front page. It moves down the page with each new post until it disappears from the front page and moves into "Archives." The Archives section is typically displayed in a sidebar. It is a chronological listing of links to all the older posts. Blog posts are archived by date, category, author, tags and sub-categories.
Most blogs use a "Comments" link to engage with the audience in order to build a base of loyal readers. It's not only rewarding when readers find something interesting in the blog and are inspired to comment, but also a good way to develop new customers.
Different blog posts serve different purposes
The Long and the Short of it
Variety is the spice of life and also of blogging, as it turns out. Successful blogs typically appear three to four times a week, so changing up the format keeps it fresh. There is a place for longer posts of 500 words or more, i.e. for taking a position on a controversial topic, or introducing a complex idea. Those posts are like articles and can establish an individual as a thought leader.
Often bloggers will publish a popular news story they believe to be of interest to their audience, accompanied by a short explanation of why the topic is relevant. The post serves to keep the company name in front of readers through using a different format. Around the holidays or maybe at the end of the work week are good times to publish a "fun post" with entertaining content which still stays true to the focus of the blog.
Images
Some blogs are more visual, introduced by striking images that draw readers in. The old cliché "a picture is worth a thousand words," says it all. For a post with compelling images and/or videos, the content is almost secondary. Images may be provided by the company, showcasing its products, locations or events. If not, thousands of stock photos are available to choose from, sometimes at no cost or for a nominal fee. The same images can be re-used when the blog is posted to social media platforms.
Guest bloggers
Some blogs present frequent guest bloggers, usually invited because they are respected industry experts or perhaps inspirational writers. Introducing new viewpoints keeps a blog fresh while at the same time being sure to reinforce the brand. Guest bloggers serve to expand the readership of the blog as their own loyal followers discover the new site.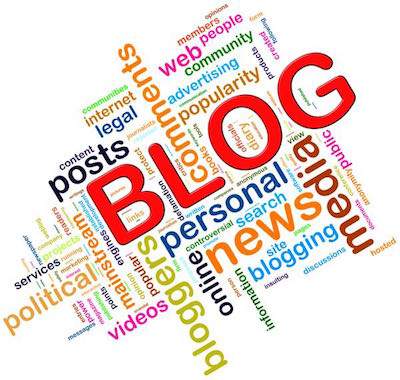 "A blog is only as interesting as the interest shown in others."
~ Lee Odden, Optimize: How to Attract and Engage More Customers by Integrating SEO, Social Media, and Content Marketing
What it takes to write a great blog
Know the goals of the blog
Writing a blog is a commitment of time and energy. It's not uncommon for individuals or companies to start a blog with the best intentions and yet several months later, find themselves unable to keep up the relentless pace of posting. In that case it's better never to have started it.
The best advice is to first be clear on the goals of the blog. What do you want to accomplish? It could be to stay in touch with customers and vendors, to drive business to the company website, or just because "everybody has a blog nowadays." The next step is to identify the audience. Who is interested in what this blog has to say? How can it be of the greatest use? To further narrow it down, what are the problems that those readers need to solve and how can this blog help them do that?
Create stellar content
To produce and maintain a blog requires the skills of writing, editing, social media management and search engine optimization (SEO), just for starters. First and foremost, the content has to be well-written and relevant. Blogging has created a huge demand for good writing that can capture an audience. Professionals in all sorts of businesses need material written to establish and enhance their authority, yet they often don't have time to invest in doing it themselves.
Hiring a blog writer to prepare a business/service blog on a regular basis has become the solution for busy executives and business owners. Find a highly qualified writer with excellent communication skills who can extract the information and transform it into an effective blog.
"Cori and I worked on several freelance writing projects early in our careers. She is extremely professional and a great source of inspiration. Cori is someone who goes the extra mile to provide quality content for her projects."
~ Lee Daley
Editor, Writer, Photographer at Epicurean Destinations
"One of the exciting things about the Internet is that anyone with a PC and a modem can publish whatever content they can create."
From January 1996 essay titled "Content is King," by Bill Gates, published on the Microsoft website
Make your blog visible
What good is it to write a terrific blog if it doesn't draw visitors? People have to be able to find your blog, hence the need for SEO and social media experts who can place the content where it can be found by those who need it. Selecting the best platform(s), i.e. Twitter, Facebook, Instagram, is an important decision. Each platform has its own "personality" and set of followers. As the field becomes increasingly complex, specialists are emerging who can choose appropriately and know the posting styles for each.
Publish consistently
In order to stay relevant and in front of audiences, it is essential to post frequently, which means at least several times a week. That's a lot of content. To avoid burnout, compose a Content Calendar weeks and even months in advance. If possible, locate images to accompany the posts ahead of time as part of good planning. Have some "evergreen" posts in reserve, timeless pieces that can be repeated.
The personal touch
The blog has replaced the About page as the first page of a business website that readers visit to learn what the company, and the people behind it, are all about. We want to know where our products come from. Who are the providers? What are their core values? When people sense a connection and develop a feeling of trust, they are more likely to engage and become customers. Even big corporations can create connections. For example, the world's largest lodging company, Marriott International, features "Marriott on the Move," a blog where Chairman and CEO Bill Marriott communicates with customers directly.